Rockford Ball Screw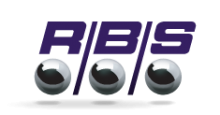 Rockford Ball Screw (RBS) is the industry leader in ball screws and linear guide rails. Since the company's inception in 1973, RBS has driven to provide customers with the highest quality products, on-time and at a competitive price.
RBS offers one of the largest inventories of Ball Screw and ACME Screw product lines in the industry. RBS products include freewheeling ball screws, bearing mounts, retrofit kits and grease. RBS products are found in countless packaging equipment applications in the medical, food packaging, energy, transportation, construction, automotive, and retail industries. 
State-of-the-Art Manufacturing with RBS
Rockford Ball Screw offers a mature product line, built to the highest performance design standards. Their extensive engineering expertise and state-of-the-art manufacturing facility ensure top performance and reliability in all their products.
Their extensive product lines include catalogued, non-catalogued, standard, and non-standard offerings. RBS takes viable concepts all the way through production, including custom design, development, production, assembly work, and installation.