Roller Conveyors – Pallet Handling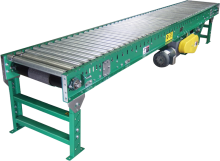 OEM Processing offers products from a number of makers of custom roller conveyors and pallet handling systems.
OEM can supply a variety of table top and matt top conveyors. Conveyor and pallet handling systems offered by OEM Processing feature stainless steel fabrication, laser cutting/machining and precision metal and plastic fabrication. 
Contact OEM for more information. We are your source for roller conveyors and pallet handling parts and equipment in Metro New York, Pennsylvania, New Jersey, Maryland, Delaware and Northern Virginia.