Spiratex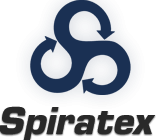 Since 1955, The Spiratex Company has serviced the custom thermoplastic extrusion industry. Spiratex is a leader in Ram and screw extrusion of engineered plastics. The company's extrusion designs in Urethane, UHMW P/E and other resins are industry standards. Along with custom thermoplastic material blends, Spiratex can extrude complex shapes and sizes that others cannot.
Products from OEM
OEM Industrial has standard Spiratex profiles in stock. Custom profile capabilities are an option for all engineered plastics. Spiratex can extrude profiles and tubing to your exact specifications. 
Spiratex has also developed a line of standard conveyor components, including aluminum and stainless steel guide rails. OEM provides a variety of side rails, chain supports, cable guides and lane dividers.